Upper & Lower Body Lifts After Weight Loss Pittsburgh
To help achieve a more tightened and toned appearance, body contouring after major weight loss - otherwise known as a belt lipectomy - can be the final step to transforming the body and boosting self-confidence. It is designed to tighten excess skin from the lower abdomen, back, pubic area, and outer thighs. After massive weight loss, the skin does not retain its shape, leaving you with excess, saggy skin.
Dr. Raymond Capone, Jr. performs body lift procedures at his Shadyside Surgi-Center to help patients feel confident in their appearance after significant weight loss. If you are considering plastic surgery after weight loss, call our Shadyside office or book an appointment online today to schedule a consultation with Dr. Capone!
Get Rid of Loose Skin After Major Weight Loss with Cosmetic Surgery 
Body contouring is the most effective, fulfilling way to get rid of excess, sagging skin after significant weight loss. Dr. Capone is extensively experienced in performing Body Lift procedures at the Shadyside Surgi-Center in Pittsburgh, PA. Call our office for an evaluation to find out if you're a good candidate for body contouring!
---
Example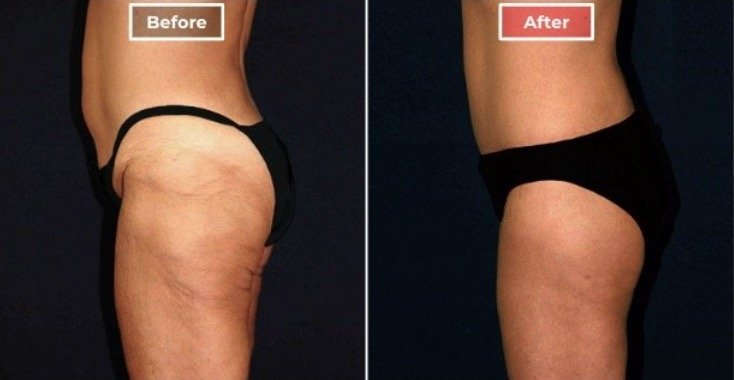 FAQs on Body Lift After Weight Loss:
What factors lead to excess, saggy skin after Weight Loss?
Not all who experience massive weight loss will require plastic surgery. Factors such as how overweight you were (which affects the amount of stretching on the skin), how much weight you have lost, and the number of times you have gained and lost weight (which affects the elasticity of the skin) can determine whether or not you will need body contouring. People who are older or have a history of sun tanning or smoking have less elasticity in their skin. Genetics also play a role in how resilient your skin is.
Is there scarring after Body Contouring?
Dr. Capone maps the excess tissue to be removed, to anticipate the movement of the skin left behind. This allows him to visualize where the scars will be after the tissue is removed, and place them where they will be hidden by underwear or a bathing suit. A lower body lift rejuvenates the abdomen or thighs or breast fold using a bikini-line incision. Our goal is for you to feel better about your body after the surgery. While the results can be dramatic and fulfilling, the recovery requires commitment and compliance.
What is the ideal weight for Body Contouring?
The ideal time to perform body contouring procedures is when your weight is stable. This generally means that you have experienced no major weight changes over a 3 to 6 month period, which is typically 12 to 18 months after weight reduction surgery.
What is the recovery time for Body Contouring/Body Lift Surgery?
Body lifts require some downtime. It will be one to two weeks before you can resume day-to-day activities and approximately four to six weeks before you can resume heavy lifting and aggressive exercise. A compression garment will be applied around your abdominal area after surgery to keep the swelling down. Dr. Capone will give you written post-op instructions on how to care for your incision, which medications to use, and how to comfortably move as you sit and lie down.
Does Body Contouring help maintain Weight Loss?
People who had body-contouring surgery after losing large amounts of weight due to gastric banding surgery (creating a small pouch to hold food) have better long-term control of their body mass index than people who did not have body-contouring surgery (1). Body contouring procedures can also improve your health-related quality of life. Approximately 25 percent of those who experience massive weight loss after bariatric surgery will have some type of body contouring procedure. 
For more information about plastic surgery after weight loss with body lift and body contouring procedures, contact our Pittsburgh, Pennsylvania cosmetic surgery practice today. Call us at (412) 363-6626 or book an appointment online. Dr. Raymond A. Capone, Jr. can help you eliminate sagging skin and finally achieve the firm, slender figure you've worked so hard to attain. Betsy, our Patient Coordinator and our team of care experts are happy to do a consultation with you to understand your needs and help you figure out the next steps.