Facelift Surgery | Neck & Face Lifts - Pittsburgh, PA
The aging process involves the thinning of the skin connective tissues and the breakdown of skin collagen and elastic fibers. This leads to sagging skin, wrinkles, and even folding of the skin. Botox and filler injections provide a short term fix for some minor wrinkles, though it cannot correct sagging. When filler injections are used to correct sagging and folds, excessive quantities become the norm and a decidedly unnatural appearance may result.
On the other hand, a facelift, or rhytidectomy, remains the gold standard for successfully removing those sags, folds, and wrinkles. 
During facelift surgery at our Pittsburgh plastic surgery practice, Dr. Capone lifts and tightens the skin of the face and neck, removes any localized excess fat with targeted liposuction, and tightens the muscles beneath the skin. You can be confident that every facelift performed at our Shadyside Surgi-Center will be tailored to your specific needs. Dr. Capone also works with CareCredit and M~Lend Financial to make your surgical procedures more affordable. For more information about facelifts or any questions associated with the procedure, call our Shadyside office or book an appointment online to effortless schedule a consultation with Dr. Capone!
Example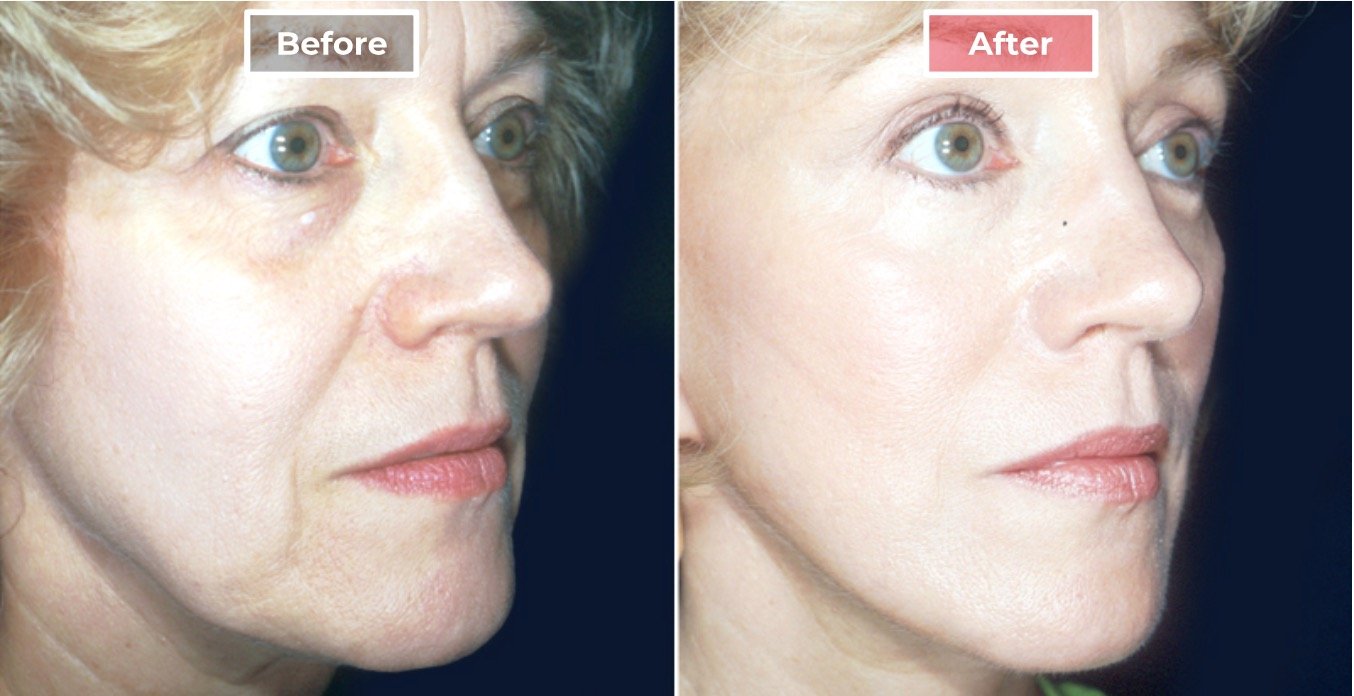 FAQs on Facelift:
How does a Facelift procedure work?
Dr. Capone gently contours the facial features upwards for a youthful look and tighter skin. A minimal access suspension approach is used to create tension that gently lifts sagging tissues of the brow and face. The threads are anchored to the scalp tissue to avoid migration.
Can a Facelift be done alongside an Eyelid, Nose or Forehead Lift?
Facelift surgery can be performed in conjunction with other facial rejuvenation procedures, including a forehead lift, eyelid surgery, or a nose lift. And with big improvements in the safety of anesthesia, we are increasingly prepared to keep patients under for longer in order to make time for extra procedures. With Pittsburgh plastic surgeon Raymond Capone, Jr., MD, the results of a facelift can be subtle or dramatic, depending on the patient's desire and their looks before surgery and the specific goals of the facelift surgery.
How long is the recovery for Facelift surgery?
Full healing takes two to four weeks. The procedure is typically performed on an outpatient basis. You will be seen in the office a few days after surgery and for regular follow-ups thereafter. You will be able to wash your hair with your usual shampoo a few days after surgery. Routine antibiotics and pain medication are provided. However, it is interesting to note that most patients do not require analgesics and complain of little if any discomfort with this procedure.
Dr. Raymond Capone, Jr. can help you eliminate sagging skin and make your face look more aesthetically pleasing without any complications. For more information about Facelift procedures, contact our Pittsburgh, Pennsylvania cosmetic surgery practice today. Call us at 412.363.6626 or use the convenient online appointment booking tool to get in touch with us. Betsy, our Patient Coordinator and our team of care experts are happy to do a consultation with you to understand your needs and help you figure out the next steps.