Skip Main Content

Breast Asymmetry Correction | Complex Breast Augmentation
When a woman has different-size breasts, breast correction surgery can help balance the appearance of her bust. Dr. Capone uses implants for breast enhancement at his Pittsburgh, Pennsylvania practice to help women correct the appearance of asymmetrical breasts and achieve an even, natural-looking bust.
Dr. Raymond Capone performs breast surgery at our Pittsburgh, Pennsylvania Surgi-Center to help women who desire breast augmentation attain their desired look. Many women have asymmetrical breasts – one breast is naturally smaller than the other, and they seek to have the appearance of their bustline balanced through breast augmentation surgery.
Complex Breast Augmentation for Asymmetry Pittsburgh
Asymmetrical breasts are more common than you may think, but symmetry can be restored with Breast Asymmetry Correction at the office of Dr. Raymond Capone. Dr. Capone has decades of experience balancing asymmetrical bustlines safely and effectively at the Shadyside Surgi-Center. If you're ready to explore complex breast augmentation with an award-winning plastic surgeon, call our office today! 
---
Before and After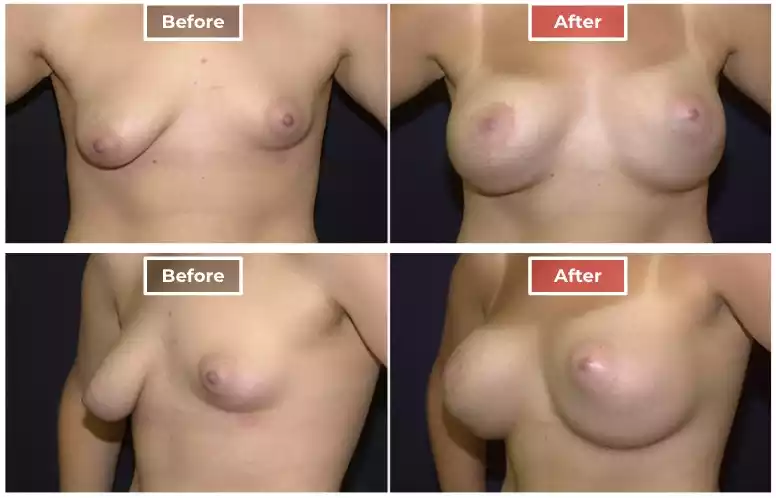 FAQs on Breast Augmentation:
Am I a Candidate for Breast Surgery to Correct Asymmetrical Breasts?
Many women choose to undergo breast surgery at our Pittsburgh plastic surgery practice to correct the appearance of asymmetrical breasts. Because a woman's self-image is tied to the look and feel of her breasts, breasts that are unequal in size or shape can be embarrassing and limiting. Many women with asymmetrical breasts feel uncomfortable wearing tight-fitting clothes and bathing suits, or revealing themselves to a partner because they feel self-conscious about the appearance of their breasts.
Whether your breasts vary in circumference or size, Dr. Capone can use breast implants to help you achieve beautiful, balanced breasts that you can be proud of. He can also correct the appearance of nipples that are dissimilar. If you have had a mastectomy or lumpectomy due to breast cancer, Dr. Capone can help you attain natural-looking, attractive breasts with a breast reconstruction procedure. If you have asymmetrical breasts, contact Dr. Capone today to schedule a consultation and find out how breast surgery can benefit you!
How is Breast Asymmetry Correction Surgery Done?
Before you undergo breast surgery at our Pittsburgh, Pennsylvania practice, Dr. Capone with meet with you to discuss your surgical goals and help you determine realistic expectations. During the consultation, Dr. Capone will take precise measurements of your breasts and decide with you which type of implant and breast surgery will best meet your cosmetic needs.
Breast surgery to correct asymmetrical breasts is similar to breast augmentation surgery. An incision is made under the arm, around the areola, in the navel, or under the crease of the breast. Next, a pocket is created behind the breast tissue or underneath the breast muscle to create space for the implant. Once the implants are placed, the incisions are closed. The entire procedure generally takes less than two hours and can be performed while the patient is under general anesthesia.
How Can I Get More Information on Breast Asymmetry Correction?
If you have asymmetrical breasts and are considering breast surgery, contact our Pittsburgh, Pennsylvania cosmetic surgery center to schedule a consultation. Dr. Raymond Capone strives to help each patient achieve her aesthetic goals in a comfortable, private environment.
Call us at 412.363.6626 or use the convenient online appointment booking tool to get in touch with us. Betsy, our Patient Coordinator and our team of care experts are happy to do a consultation with you to understand your needs and help you figure out the next steps.