Tummy Tuck Surgery | Abdominoplasty – Pittsburgh, PA
Tummy tuck surgery, also known as abdominoplasty, can make your stomach flat, firm and toned once again. This procedure is often one component of a "Mommy makeover", a comprehensive approach to the body contouring problems that remain after pregnancy. A tummy tuck caters to your specific needs and concerns; it can help remove extra flab from the abdomen area, tighten your skin or muscle tone, and also hide various types of scars, including those resulting from major surgeries like C-sections.
Dr. Capone can perform liposuction, tummy tucks, mini-abdominoplasty, and other body contouring procedures on an outpatient basis at the Shadyside Surgi-Center in Pittsburgh, PA. You can trust that you are in good hands with Dr. Capone, who has over 40 years of experience. For more information about abdominoplasty/tummy tuck procedures, call our Shadyside office at 412-363-6626 or book an appointment online to effortlessly schedule time with Dr. Capone today!
Full & Mini Tummy Tuck Surgeries for Optimal Body Enhancements 
A tummy tuck entails much more than just a flatter stomach, it can also tighten loose skin, remove stretch marks, and hide major surgery scars. Tummy tuck surgeries are popular among mothers who are looking to restore their pre-pregnancy firmness and muscle tone. Schedule an evaluation with Dr. Raymond Capone to find out if you're a good candidate for this incredibly popular procedure!
---
Before and After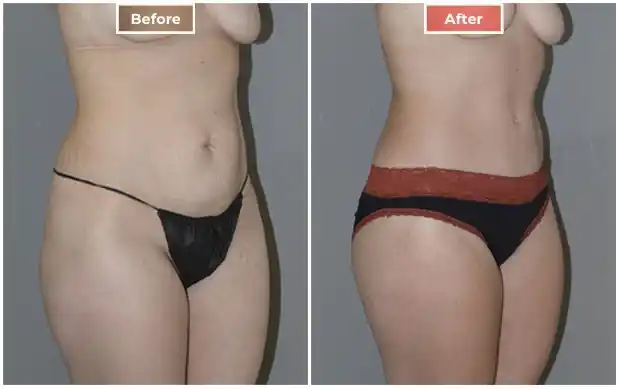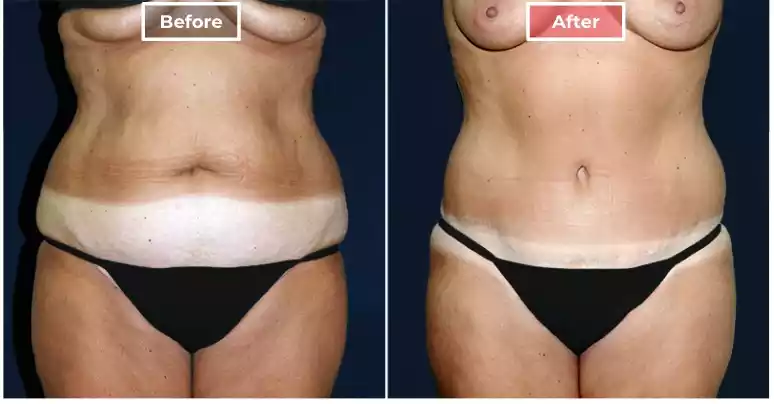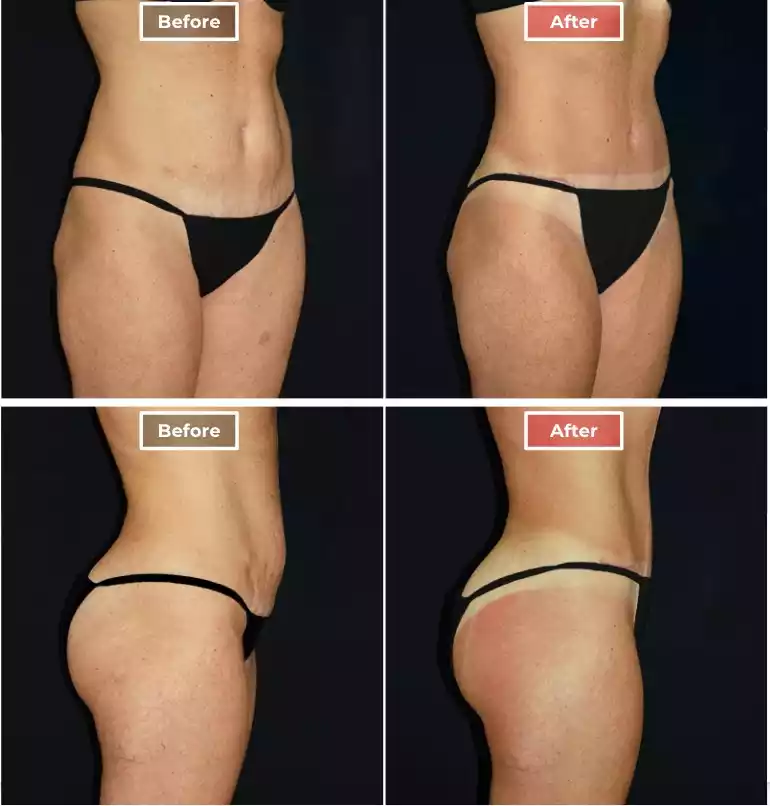 What is a Tummy Tuck?
A tummy tuck, otherwise known as abdominoplasty, is a surgery to remove excess skin and fat from the abdomen that has not responded to diet or exercise; and to tighten or repair the abdominal muscles. The procedure can be a viable body contouring solution for our Pittsburgh cosmetic surgery patients who have loose skin and excess abdominal fat in the stomach region. Candidates for tummy tuck surgery include women who have given birth, as well as individuals whose skin has become stretched following significant weight loss. A tummy tuck or abdominoplasty is often one component of a "mommy makeover", a comprehensive approach to the body contouring problems that often remain after pregnancy.
What are the benefits of a Tummy Tuck after pregnancy?
Many women end up getting a stomach pooch after childbirth. After pregnancy, you might suffer from a condition called diastasis recti (also known as Abdominal Muscle Separation). The split muscles can lead to a tummy pooch, and back pain which refuses to go away. Tummy tuck surgery will restore normal pre-pregnancy muscle relationships and tight skin.
Tummy tuck surgery can work wonders by removing the extra skin and stretch marks on your abdominal area. Additionally, If you have scars on your abdominal region, such as C-Section scarring, a tummy tuck procedure can help hide the scars by lifting the skin just over it.
How long should I wait to have a Tummy Tuck after pregnancy?
After having kids, you may want your old body back. We advise women to wait for at least six months post-delivery before having a tummy tuck. We suggest that you should only think of opting for tummy tuck surgery if you have already had your  last child and do not want more. This will ensure that future pregnancies will not affect the results of tummy tuck surgery.
What is a Mini-Tummy Tuck?
If you have a little bit of loose skin above or below the belly button, a mini-tummy tuck or a C-tuck might be for you. Compared to a traditional tummy tuck, the scar is much shorter and recovers easier. As we remove the excess skin, we can also tighten the muscles in the area, if indicated.
What is the recovery time for a Tummy Tuck?
Tummy tucks require some downtime. It will be one to two weeks before you can resume day-to-day activities and approximately four to six weeks before you can resume heavy lifting and aggressive exercise. A compression garment will be applied around your abdominal area after surgery to keep the swelling down. Dr. Capone will give you written post-op instructions on how to care for your incision, which medications to use, and how to comfortably move as you sit and lie down.
If you still have questions about whether or not to have tummy tuck surgery, reach out to our office. Dr. Capone will help you decide if a tummy tuck is a right procedure for you. Call us at 412.363.6626 or use the convenient online appointment booking tool to get in touch with us. Betsy, our Patient Coordinator and our team of care experts are happy to do a consultation with you to understand your needs and help you figure out the next steps.