Liposuction | Fat Removal Procedures – Pittsburgh, PA
Liposuction is currently the most performed aesthetic plastic surgery. The procedure is usually recommended if you have localized areas of fat that don't respond to diet and exercise. Dr. Raymond A. Capone, Jr. performs liposuction by inserting a metal tube, called a cannula, through an incision in the skin into the fatty area. Suction in the cannula removes unwanted fat into a syringe or container attached to a suction pump. If desired, the removed fat can then be processed and reinjected into the buttocks or breasts for enhanced curves in those areas.
The Brazilian Butt Lift involves removal of fat from the waist and hip with reinjection into a flattened buttock and is currently the fastest growing procedure done in plastic surgery. Dr. Capone performs safe Brazilian Butt Lifts at the Shadyside Surgi-Center ambulatory surgery facility in Pittsburgh.You can be assured that you are in good hands as Dr. Capone has been performing liposuction since its first introduction to the US market in 1984, with 35 years of experience in plastic and reconstructive procedures like Liposuction. He performs Liposuction at the Shadyside Surgi-Center on Centre Avenue in the Shadyside neighborhood of Pittsburgh. Dr. Capone can also use liposuction in combination with facelift surgery to eliminate fat beneath the chin and further sculpt the face. Call our Shadyside office or use our online appointment tool to effortlessly schedule your time with Dr. Capone today!
Slim Problem Areas with Liposuction
Do you have pockets of fat that won't go away, even with diet and exercise? Liposuction is one of the most effective ways to remove stubborn fat deposits and enhance your body's overall contour in a natural-looking way. Award-winning plastic surgeon Dr. Capone has decades of experience performing liposuction on patients. Call our Shadyside office for a consultation!  
---
Before and After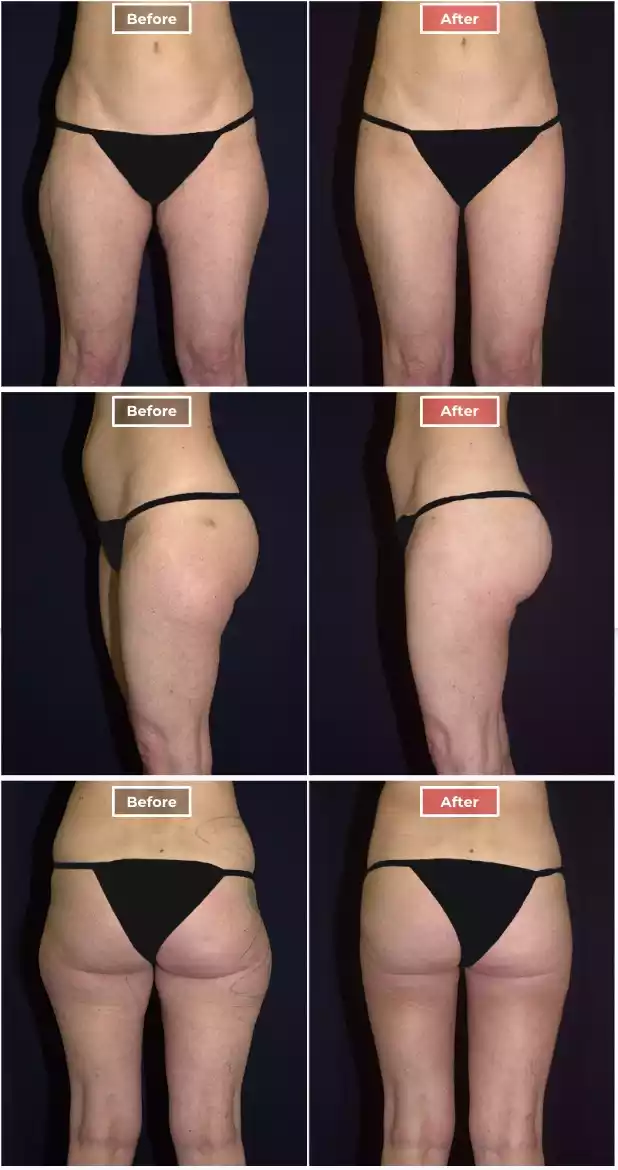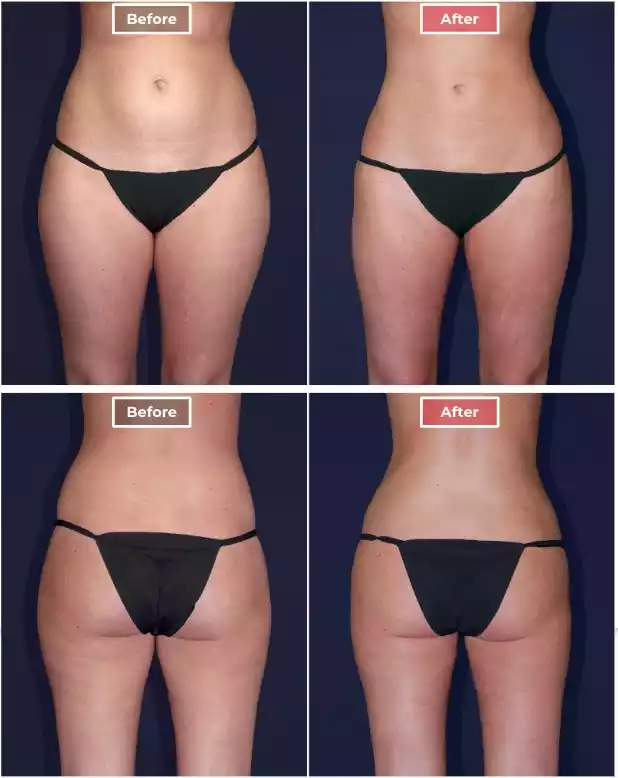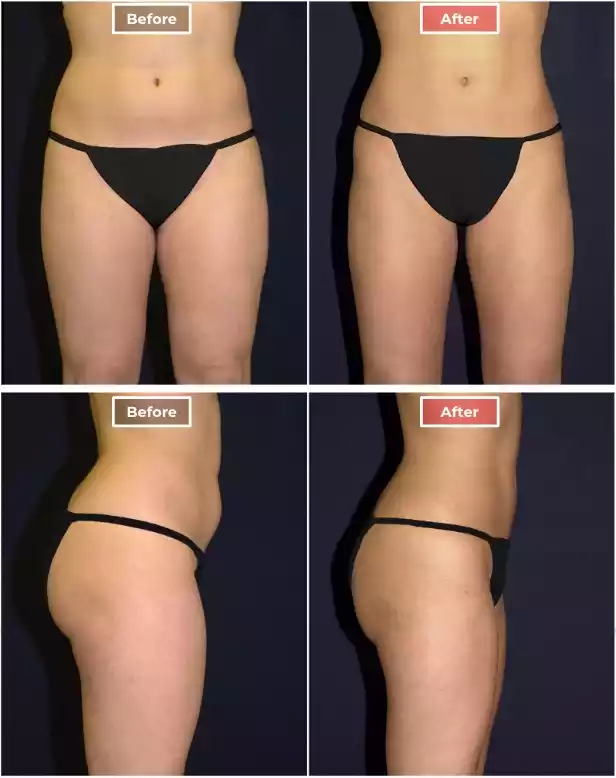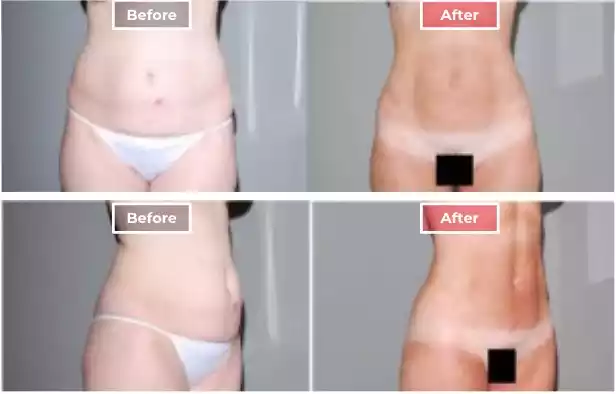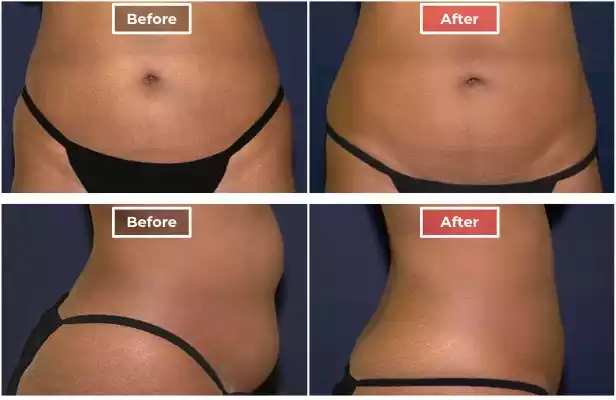 FAQs on Liposuction:
What is Liposuction?
Liposuction is a surgical procedure to remove the fat that cannot be shed by diet and exercise. Dr. Capone performs liposuction on parts of your body that have stored excess fat and have become flabby. The most common areas for liposuction are:
the sides of the waist, hips, and flanks (to eliminate creases or to narrow the waist)
the abdomen
the thighs
the inner knees
the upper arms
enlarged male breasts
the neck beneath the chin
Liposuction is the most popular surgical cosmetic procedure in the country. According to the American Society for Aesthetic Plastic Surgery, this technique is "safe and effective".
Who is an ideal candidate for Liposuction?
Ideal candidates for liposuction should be in good medical health, have good skin tone and should be close to their goal weight. The procedure is not recommended for the morbidly obese or anyone hoping to lose weight rapidly. Patients with severe diabetes or other medical conditions that may impair healing often are not candidates for liposuction. Being fit helps to ensure great results.
During your initial consult, Dr. Capone will review your medical history and perform a thorough examination to let you know if you're a good candidate for the procedure. Be sure to tell Dr. Capone about any prior health issues. It is also recommended that you bring a list of all of your current medications and supplements, as some of them can act as blood thinners.
To be eligible for liposuction, you must:
be in good health
be within 30% of your ideal body weight
have a firm skin tone
No matter your medical history or situation, it is always recommended that you have a preliminary consultation with Dr. Capone to discuss the feasibility of liposuction. He will explain all the pros and cons of this particular procedure and will help you assess both your goals and your possible results.
What is the best way to prepare for Liposuction?
Simply following a few wise tips, potential liposuction patients can make a lipo experience more favorable while also greatly improving the results of their procedure.
Strive to maintain a healthy body weight
Refrain from smoking for at least two weeks before having a procedure done
Follow nutrition and exercise guidelines
Stay hydrated and provide your body with fuel for healing, like citrus fruits and green leafy vegetables.
What can be expected after Liposuction?
As with any surgery, you will have some numbness in the treatment area, which can last for up to six weeks (2). About 90 percent of patients experience a transient change in skin sensation that eventually goes away. You need to take one or two weeks off from work after the procedure.
Will the fat come back after Liposuction?
As an adult, you have a set number of fat cells. When you gain weight, those cells get bigger, and when you lose weight, they shrink. During liposuction, some of them are removed, and they never come back. But if you gain 20 pounds, that weight has to go somewhere, and it can go to the remaining cells in the liposuction region. The result should be that any future weight gain will be more evenly distributed throughout the body. In other words, if you used to pack on the pounds primarily on your outer thighs after the extra cells are removed, you should gain evenly in your arms and thighs.
How long does it take to see results after Liposuction?
Patients typically see 85 percent of their results within a month. However, it usually takes up to six months for the swelling to go down completely. Wearing the compression garment provided after the procedure helps speed the healing process. It also helps to hold the skin in place, so that when it redrapes to the muscle, it looks smooth and taut.
If you still have questions about whether liposuction is right for you, reach out to our office for a consultation; our staff is ready to help you evaluate your options and make a decision regarding your plastic surgery needs. Call our Shadyside office or use our online scheduling tool to effortlessly schedule a consultation with Dr. Capone today!